AR-as-a-Service, a new generation Account Receivables service
Tough times require new ways of thinking, with Waya360 you get full automation of the entire invoice lifecycle, which saves time and money, accelerates liquidity and increases customer satisfaction. Read more about our focus areas below.
Waya360 - A complete Boarding2Pay solution for the entire invoice lifecycle.
By integrating with Waya360, you will gain full automation for the entire invoice lifecycle, save time and money, speed up liquidity, have access to financial and legal services, increase customer satisfaction and loyalty, and increase company value and profits.
Invoice Automation

Automate the entire invoice lifecycle including distribution, reminders, payments and bookkeeping.

Financing

Increase liquidity by selling invoices, offering credits, BNPL services, or with Waya's financing partners.

Debt Collection

A complete claims handling service with a customer satisfaction rate of 97%.

Legal & KYC

Customer credit monitoring and assistance with financial disputes, negotiations and court action.

Business Insight

Gain complete visibility of the invoice lifecycle with real-time financial monitoring and reporting.

Connectivity

Through Waya Connect, you get a seamless experience both to and from your existing business system, from retrieving invoice information to ticking and bookkeeping.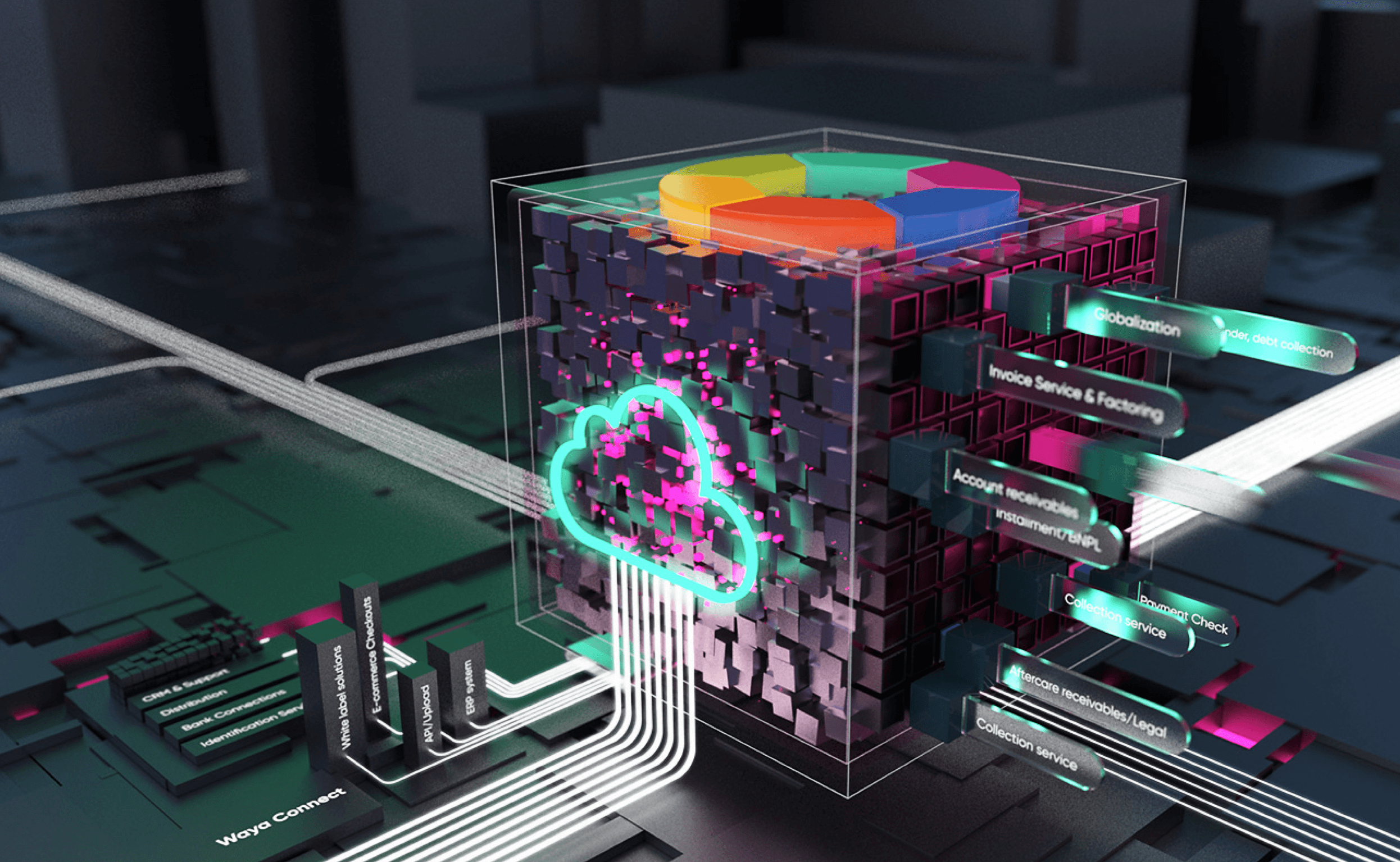 Days Sales Outstanding (DSO)
Calculate your Days Sales Outstanding and Working Capital
Waya's invoice services mean faster payments. Measure the average number of days your company takes to collect revenue after completing a sale. The lower your DSO, the more cash available for payroll, purchasing and investments.
Enter your current accounts receivables balance.
Enter your sales revenue based on the last 360 days.
Years with WayaSee what we can do for your business over time.See what we can do for your business in
26 days
Your current DSO

18 days
Estimated DSO with Waya

2 666 667 SEK
30% increased liquidity

Outsource your invoicing and improve the company's Working Capital by 30%
The service Waya 360 allows you to reduce the number of payment days by approximately 17 days. In this way, you improve the company's working capital by around 30 percent.
Loved by market leaders.
Our software is so feature-rich, and simple to use, people can't help but fall in love with it. Here's what some of our clients have to say.
Waya's claims handling service always comes with nice terms to make sure the customer doesn't burn any bridges – a concept that works well for us. CleanUp enables a smooth process for our over 250,000 customers consisting of everything from small to really large companies, all of whom now have the possibility of simple financial transactions.

Leif Lundgren

Partnership Manager SEB

Now we can offer our customers a complete solution that not only includes our user-friendly and feature-rich business system, but also invoicing and financial services by our own brand.

Mikael Viotti

CEO of HVD Group

We have chosen to work with Waya as our invoicing partner to our customers. Their invoicing service has saved us valuable time while increasing our customer's liquidity.

Adam Von Köhler

Head of digital Aspia AB

We previously spent far too much time and focus on administration and getting paid. Searching through invoices and getting everything to match eats up important time from the business. When we now get help from Waya in these areas, we notice that we have significantly better control over our liquid. The CleanUp service ensures that we get paid for what we are supposed to and speeds up the process. The contribution that Waya's services represent means that we can instead put more power and energy into sales and other things that drive the company forward.

Jonas Bjurström

Business Developer Folkpool

Getting access to an automated solution that simplifies the payment process has proven to have a great effect on our business. We have integrated Waya's services, which means they can retrieve invoices directly from our business system.

Carl Johan Åkesson

CFO Hemnet AB

With the help of Waya's solution, we have gained the technical functionality that we previously lacked in the financial solution. The improvement has, among other things, led to us being able to significantly strengthen our offer for Buy Now Pay Later.

Jesper van Eijk

CFO Webhallen
Something for everyone.
Waya Finance & Technology mainly helps larger companies & finance companies, but also has online services for smaller companies that also want to strengthen their liquidity in a more fair way.
Online Debt Collection & CleanUp
For all companies wanting help to increase their liquidity by online reminders and debt collection.
97% customer satisfaction

Fast registration with BankID

Free of charge

Support and bookkeeping included

Single or multiple uploads
Get started today
Waya360 - Enterprise
For larger corporate customers who wish to automate their entire invoice administration and strengthen their working capital - all directly from their business system.
97% customer satisfaction

Complete invoice administration

Automated reminder and collection management

Automatic ticking & bookkeeping

Statistics and follow-up in invoice portal
Read more
Waya360 - Bank & Finance
For Bank & finance customers who wish to focus on their core business in finance and let Waya orchestrate the entire invoice administration.
97% customer satisfaction

Complete AR administration

Onboarding and integration assistance

Engagement & accounting function

Certified for outsourced operations

Statistics and follow-up in invoice portal
Read more