A new generation AR solution for Banks & Financial companies
By combining Waya360 with your own financial solutions, Banking and Financial companies can offer new automated services to their customers and streamline their own business.
Waya360 concept – Boarding2Pay
Waya orchestrates the entire invoice lifecycle administration and integrates with banks to facilitate invoice financing, risk management and free up resources. Say goodbye to complicated, time-consuming integrations and welcome a world of financial simplicity and efficiency.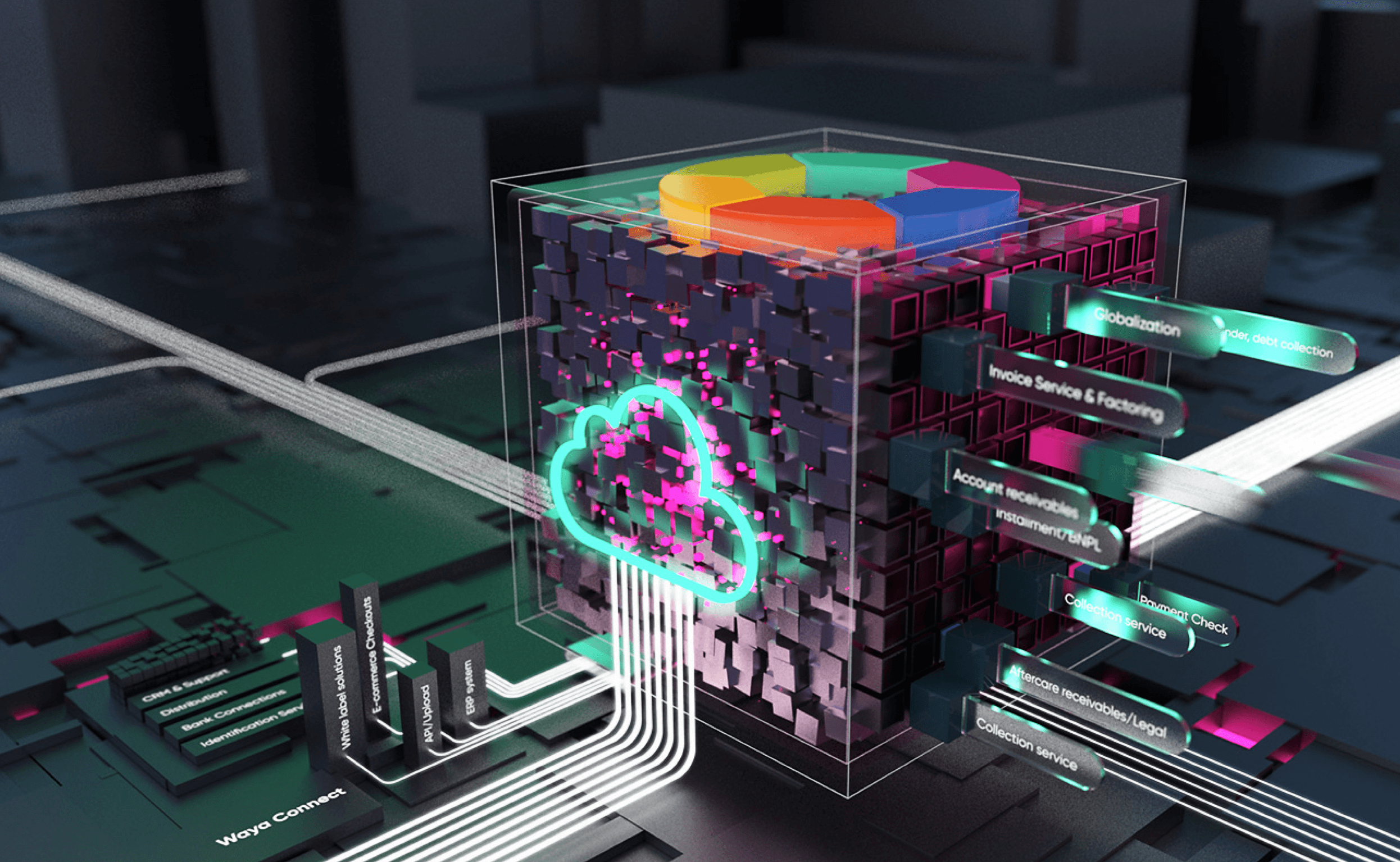 Invoice financing administration is not part of the core business.
The core value for banks is in the lending and financing volume, but banks do not need to operate the solution.
Reevaluate Invoice Financing with a focus on the core business

While invoice financing is an essential aspect of the financial landscape, it's not at the heart of a bank's core business. The real value for banks lies in the volume of lending and financing they facilitate. With this focus, banks don't have to operate invoice financing solutions themselves, freeing them to concentrate on what they do best. Discover how our platform can take on the administrative burden, allowing banks to optimize their lending and financing operations.

Potential for Banking and Financial companies to increase their efficiency and profitability

Current banking operations often run with suboptimal efficiency, serving as a bottleneck that hampers overall productivity. With a largely manual system, operational exposure is not only significant but also costly. For these reasons, there is a pressing need for banks to seek out more efficient operational setups. Explore how Waya360 for Banks can transform these pain points into avenues for optimization, and pave the way for a more streamlined and cost- effective future in banking.

IT - The Unaddressed Challenge for Banks

Banks often relegate IT development to the back burner, despite accumulating a significant backlog of IT development debt. This legacy is becoming increasingly problematic, especially as digital-first competitors raise the stakes. Unfortunately, IT resources are earmarked for non-core operations, amplifying the pressure on traditional banking systems. Discover how our comprehensive solutions can help banks recalibrate their IT priorities and remain competitive in this rapidly evolving digital landscape.

Meeting Customer Expectations in a Digital Age

As customer preferences evolve, banks face increasing pressure to deliver a superior, digital- first experience. Modern consumers, now more tech-savvy than ever, are actively seeking out more streamlined and convenient solutions. This growing demand amplifies the competitive pressure from digital challengers that are already ahead in the game. Explore how our innovative solutions can help traditional banks not just catch up, but lead the way in customer experience and digital transformation.
Loved by market leaders.
Our software is so feature-rich, and simple to use, people can't help but fall in love with it. Here's what some of our clients have to say.
Waya's claims handling service always comes with nice terms to make sure the customer doesn't burn any bridges – a concept that works well for us. CleanUp enables a smooth process for our over 250,000 customers consisting of everything from small to really large companies, all of whom now have the possibility of simple financial transactions.

Leif Lundgren

Partnership Manager SEB

Now we can offer our customers a complete solution that not only includes our user-friendly and feature-rich business system, but also invoicing and financial services by our own brand.

Mikael Viotti

CEO of HVD Group

We have chosen to work with Waya as our invoicing partner to our customers. Their invoicing service has saved us valuable time while increasing our customer's liquidity.

Adam Von Köhler

Head of digital Aspia AB

We previously spent far too much time and focus on administration and getting paid. Searching through invoices and getting everything to match eats up important time from the business. When we now get help from Waya in these areas, we notice that we have significantly better control over our liquid. The CleanUp service ensures that we get paid for what we are supposed to and speeds up the process. The contribution that Waya's services represent means that we can instead put more power and energy into sales and other things that drive the company forward.

Jonas Bjurström

Business Developer Folkpool

Getting access to an automated solution that simplifies the payment process has proven to have a great effect on our business. We have integrated Waya's services, which means they can retrieve invoices directly from our business system.

Carl Johan Åkesson

CFO Hemnet AB

With the help of Waya's solution, we have gained the technical functionality that we previously lacked in the financial solution. The improvement has, among other things, led to us being able to significantly strengthen our offer for Buy Now Pay Later.

Jesper van Eijk

CFO Webhallen
Contact us
This form is provided by a third party. Please update your to see it.
Something for everyone.
Waya Finance & Technology mainly helps larger companies & finance companies, but also has online services for smaller companies that also want to strengthen their liquidity in a more fair way.
Online Debt Collection & CleanUp
For all companies wanting help to increase their liquidity by online reminders and debt collection.
97% customer satisfaction

Fast registration with BankID

Free of charge

Support and bookkeeping included

Single or multiple uploads
Get started today
Waya360 - Enterprise
For larger corporate customers who wish to automate their entire invoice administration and strengthen their working capital - all directly from their business system.
97% customer satisfaction

Complete invoice administration

Automated reminder and collection management

Automatic ticking & bookkeeping

Statistics and follow-up in invoice portal
Read more
Waya360 - Bank & Finance
For Bank & finance customers who wish to focus on their core business in finance and let Waya orchestrate the entire invoice administration.
97% customer satisfaction

Complete AR administration

Onboarding and integration assistance

Engagement & accounting function

Certified for outsourced operations

Statistics and follow-up in invoice portal
Read more